Hi there and welcome back! It is time for another amazing update and we have brought this hot redheaded MILF to make your evening better. She likes everything about fucking and has some great experience with that. Which is why you should not miss her as she goes on camera while pleasuring her cunt after a long day. Grab a seat and enjoy watching her.
So the sexy MILF is in the mood for some hardcore action and since she did not feel in the mood for some fresh cock, our redhead went for some alone time. The best part is that she is very comfy, being back at her place and will be truly generous as she putted on that sexy provocative outfit just to take it off slowly in front of the camera for your viewing pleasure. Watch her squeezing her tits and massaging her clit right before those talented slides inside her love cave. This woman is truly amazing and she could teach any other woman how to get a nice orgasm by using only two fingers in no time. She starts slowly, then she goes harder and faster moaning in pleasure until she is having a nice loudly orgasm just for your delight. Don't even think to skip this one. Trust me, she is totally worth it. Cum inside and enjoy her whole masturbating scene. Until next time, I'll leave you in her company. Have fun!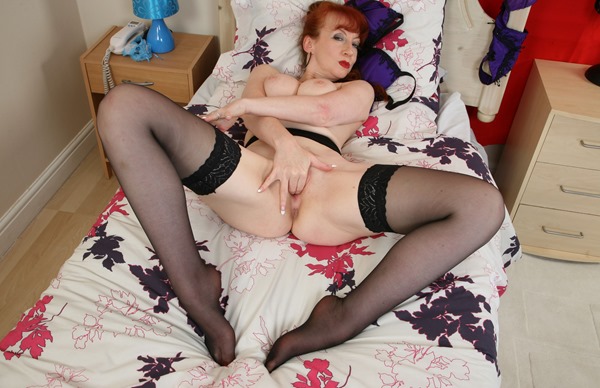 Take a look at this slutty MILF fingering herself!